For anyone who doesn't know what this show is; it's a popular K-sitcom from 2006. The plot summary:
This is a famed daily sitcom that drew in huge ratings over its 167 episodes, Unstoppable High Kick is a funny, offbeat comedy following the lives of the sprawling Lee family. It jump-started the careers of many now-famous actors, most notably Jung Il-Woo (Return of Iljimae) and Kim Bum (Boys Over Flowers and The Woman Who Still Wants to Marry), and was popular enough to spawn a spin-off series, High Kick Through the Roof. Part situational comedy, part family drama, it follows the loves and lives of the quirky Lee family through three generations.

Lee Yun Ho (Jung Il Woo) is the resident "bad boy" of his high school - famed for his love of motorcycles and the unstoppable "high kick" with which he defeats opponents in his frequent fights. His older brother Lee Min Ho (Kim Hye Sung from Kingdom of the Wind), on the other hand, is a straight-A student who would rather spend his time building models and running web blogs. The two brothers are opposite in every way, but stand by each other through everything, as MinHo deals with bullying and YunHo fields an intense crush on his female teacher. Their father (Jung Jun Ha), meanwhile, is a shiftless dreamer who lost his job due to wild investments and now allows his domineering doctor wife (Park Hae Mi) to bring home the cash. Grandfather Lee Soon Jae is the heart of the family, a feisty, money-hungry patriarch with a ridiculous addiction to pornography. Uncle Min Yong (Choi Min Yong) is a recently-divorced teacher who's enjoying his newly single status by toying with both his co-worker and his ex-wife. These are just a few of the characters in this warm-hearted, often witty story about the ups-and-downs, love triangles, and generation gaps of an unusual, rambunctious family.
SOURCE: Dramafever *Random Sidenote: I edited some description's that were kinda wrong -cough- they said Minho was Yunho's older brother and best friend; Yunho is definitely the younger brother and Minho's best friend is Kim Bum. I changed name spellings to match how it's spelt in the subtitles as well. :)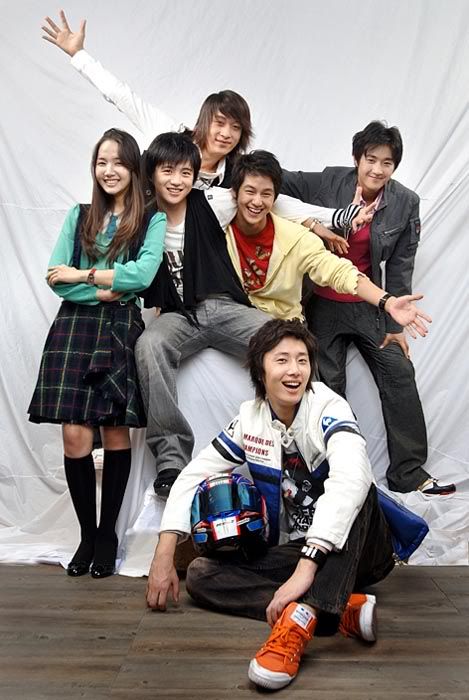 EXTRA INFORMATION: cause some people actually only want to watch it because of Chansung & Kim Bum (that's a shame really cause I love every single character in this drama, even though I did originally pick it up up cause of them xD) Before episode 100 Chansung is around and about every now and then for a few minutes with the occasional episode where he's there for half the episode, he becomes a bit more of a significant character after episode 100. So if you're watching it for him, there you go :) Kim Bum is a main character, you see him in almost every single episode :D
-EVERY EPISODE IS ~30 MIN LONG thankfully, since it's not a drama :)
-NOT ALL THE EPISODES HAVE BEEN UPLOADED YET. So far up to episode 140; all the episodes are there. The website used to upload 10 episodes once every week, but now they've left a notice saying "additional episodes will be added as soon as possible"; so there's no confirmed date but I figure by the time you guys there, it should all be uploaded.
WARNING: highly addictive
Link to all the episodes, starting from the first:
http://www.dramafever.com/drama/672/1/Unstoppable_High_Kick/?ap=1
http://www.crunchyroll.com/highkick
Happy viewing~ ♥
EDIT: Added the link to another source for the people who aren't in US/Canada. Hopefully you'll be able to view it on the other site but that site only has up to episode 136 (I'll update again if I can find the remaining episodes!